Important Upcoming Dates, info about SPARC resources, Goal Setting Conference and Childcare Sign-Ups, Specialists Classes, Teams Calendars, Teacher's Friday Newsletters and aRock the Walk Message from the CHAPTER (CHA's PTA) Board of Directors
September 10th, 2021
IN THIS UPDATE:
Important Upcoming Dates
SPARC Program
Uniform Swap
Goal Setting Conference Sign Ups
Goal Setting Conference Childcare
Specialists Classes
Teams Calendars
Teacher's Friday Newsletters
Rock the Walk Message from the CHAPTER (CHA's PTA) Board of Directors
Snack List
Reminders
IMPORTANT UPCOMING DATES
September 14th & 16th - Vakker Picture Day @ Vakker, not CHA!
September 10th - Student Classroom Ice Cream Social
September 15th - Sounders Gear
September 17th - Blue Friday
September 20th - Rock the Walk opens for pledges
September 23rd - Virtual Curriculum Night
September 24th - Virtual Walk-a-thon Kick-Off
September 24th - Goal Setting Conference & Childcare Sign-Ups Close
September 29th - All School Social - CANCELLED
September 29th - October 1st – Virtual Goal Setting Conferences: No school, Childcare provided
October 7th - Blue Thursday: Wear Seahawks attire in support of the team's game
October 15th - Fall Festival
October 22nd - Professional Development Day: No school, No childcare
October 25th - Blue Monday: Wear Seahawks attire in support of the team's game
Dear CHA Community, 
It's always the hard part that creates value. The values that we're looking for right now are time and patience. Sitting in a carline is hard. New systems are hard. Adjusting to new processes is hard. I promise you, having your child attend CHA is worth it. This week you saw our community come together quickly. From the first day drop-off ending at 9:12 to the third day of drop-off ending at 8:31, we are improving every day. Completing the attestation on the My Bright Day app prior to arrival and having your child ready to hop out of the car will help reduce this time even more. We require that all people in the car have their masks on as we scan temperatures and assist students out of their cars, to protect our staff.
We continue to work through pick-up, which is proving more challenging. A few things will help. "Hug the curb" is our new mantra. Staying to the far right at all times allows for two lanes of traffic and for cars to pass. Keeping exit points open keeps traffic flowing. Monitoring speed within the parking lot keeps our community safe. CHA parent, Tami Cheung, very kindly created this diagram last year; please take a minute to look at it. If you are pulled over to the right, please leave room for cars to exit the lot.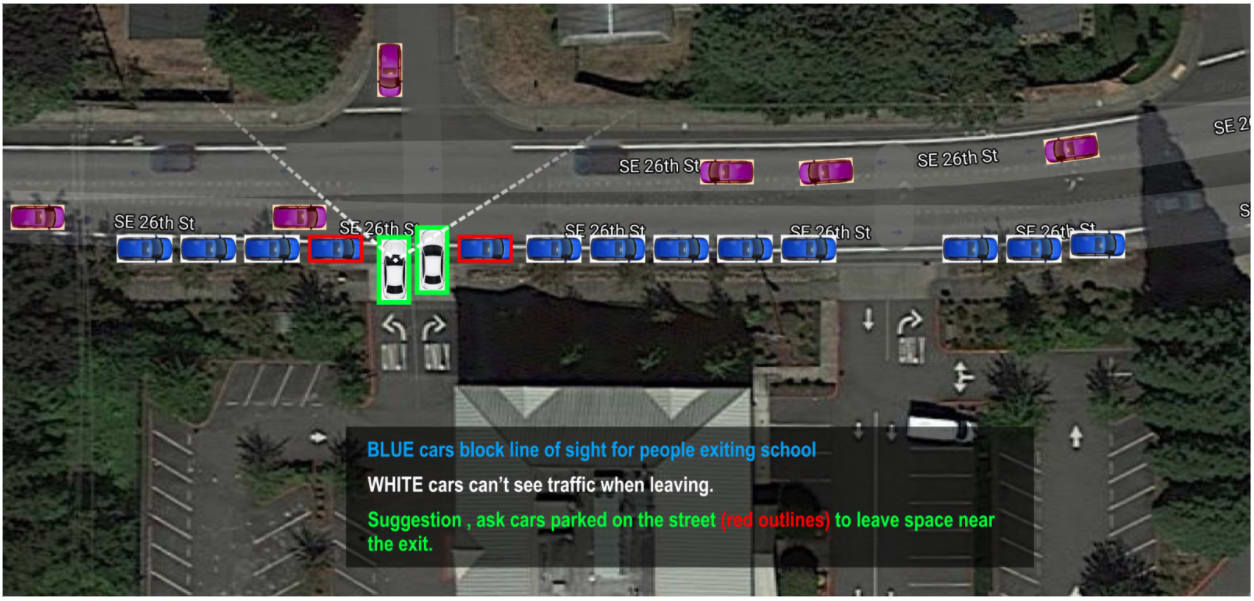 I appreciate every parent doing their part and appreciate our parent volunteers who are providing additional resources to support our goal of getting every family in and out of the school safely. If you would like to be part of the solution, you have the opportunity to volunteer as a CHAPTER Traffic Handler here. Your support, and your kind words of encouragement to our teachers and staff throughout the week went a long way. I hope your family enjoyed their first week at CHA as much as we enjoyed having you.
SPARC Program - Our SPARC resources help support students who have completed testing through an Educational Psychologist. If your student has current cognitive testing or a neuropsychological evaluation that you would like to submit to the school, please email the evaluation to sparc@chestnuthillacademy.com. The report will be added to the student's file and the evaluation will be shared with the grade level teachers who will help support your child's needs accordingly. For students with learning differences, SPARC helps to create and implement a 504 Plan to guide classroom accommodations when needed. Students who are participating in SPARC on an ongoing basis are recommended to update testing at 2-year intervals.
Uniform Swap - I am afraid that as we are unable to have volunteers on-site we have had to temporarily close the Uniform Swap. Our apologies for any inconvenience this causes.
Goal Setting Conference Sign-Ups - Goal Setting conferences provide teachers with an opportunity to meet parents with the purpose of discussing goals for your student. Teachers will share with you the goals your child decided to focus on this trimester, as well as goals they see as important for your student. Additionally, parents will be able to share with us any goals you feel are important to your child's growth. Your child's teachers are looking forward to meeting with you. Sign-Ups for the conferences opened this morning. You can find them here. They will close at 4 pm on September 24th. Our Goal Setting conferences will be held virtually on Teams. Please be sure to check your Teams access prior to your conference time. You can also sign in using your student's Teams account if needed. The conferences will start at the allotted time, and be 25 minutes long.
Goal Setting Conference Childcare - Virtual Goal-Setting Conferences will be held on Wednesday, September 29th, through Friday, October 1st. There will be no school on these days, but childcare will be available for kindergarten-fifth grade from 8:00 AM to 5:00 PM. Reservations will only be accepted for the entirety of three day time-period, rather than on an individual daily basis. If you will be using your Back-Up Care Advantage or School's Out benefit to reserve space for your child for the three days, you will submit your reservation directly through the Back-Up Care Advantage System. If you will not be using an employer-sponsored back-up care benefit, you must sign up here. If you are a family with an annual or monthly Extended Day package, the cost of these days is covered in your Extended Day package, so you will not be charged, but you will still need to sign up here in advance so we can best anticipate our staffing needs. All sign-ups must be submitted by Friday, September 24th, at 3:30 PM. Sign-ups after this date will incur a $50 late fee. If you have any questions, please reach out to our camp team.
Specialists Classes – This week has been a short week for the specialists, so there is no newsletter today, but I do know they have really enjoyed being back in their classrooms and getting to meet all our new students. You can find out about the specialist teachers and their programs, and see their welcome letters, curriculum maps and subject standards on our website here. Our Spanish teacher, Vanessa Suarez, has collated some great Spanish resources to help your students practice their language skills which you can read all about here. Next week we will have the first Specialists' Newsletter with details of their lessons during the week.
Teams Calendars – Your children will start to see appointments for lessons popping up on their Teams account. We are doing this in an excess of caution in case we are required at some point in the future to take the school online. It does not mean that we will be teaching via Teams at the moment, that students can join Teams lessons currently, or that lessons are being recorded for students who are absent. If you would like to access your child's Office 365 account, please ask your student or their homeroom teacher for the credentials.
Teacher's Friday Newsletters - This is the first week that the teachers are sending home their Friday Newsletters via our website. For the first two weeks, they will also email you the link to the newsletter. After that, if you have not subscribed, you will need to remember to visit their grade level page to see what they have been up to during the week. If you have not subscribed yet, you can see how to here in this short video clip. If you want more help using the website, you can get it here. If you have questions, please email support@chestnuthillacademy.com.
Rock the Walk Message from the CHAPTER (CHA's PTA) Board of Directors - We are excited to be kicking off our first community CHAPTER fundraiser for 2021, the foundational event for fall fundraising. Your support is critical in ensuring our success as your PTA for the 2021-2022 academic year.
Over the summer, CHAPTER approved an annual budget that brings many of our educational enrichment and community-building activities back to the forefront, and we are excited to again be able to offer these benefits to the students during in-person learning. In addition to these substantial contributions, CHAPTER continues to fund professional development for the teaching staff, guest subject matter experts, security enhancements, and other important capital investments that directly benefit our students.
We need your support so we can continue investing in key areas of enrichment and community building while ensuring the continuity of our important commitments to the school into 2022 and beyond.
Your student will soon be receiving an email from RallyUp, the online platform used to host our Rock the Walk event. Within that email you will find a registration button for your child(ren), as well as links to their fundraising/pledge page and the form for inputting miles walked. Please help your child to complete their registration and encourage them to walk with you. We will be open for pledges starting Monday, September 20th, and the 10-days of walking will begin Friday, September 24th.
Rock the Walk will also be hosting a CHANNEL in teams, which will be the focal point of communication for this fundraiser. Within this CHANNEL, and in the coming days, you will find:
Instructions (text and videos) for soliciting and making pledges and setting up your child's pledge page
Motivational messages from CHAPTER and the faculty and staff at CHA; and
Updates on miles walked and student achievements
Once we get started on the 24th, our community can post in this channel, and we encourage families to use this internal CHA resource to post pictures and videos of their child's achievements. It is our hope that it will become a vibrant forum for healthy competition and community building. This channel will be moderated, and any posts that are not relating to the Rock the Wal event, or of questionable content will be promptly removed.
If you have questions relating to Rock the Walk or RallyUp, please email CHAPTER@chestnuthillacademy.com.
REMINDERS 
Picture Day – Vakker, which provides our school picture service, has invited CHA parents who would like a fall picture to join them at their location: 14341 NE 21st Street Ste. A-B, Bellevue WA 98007 on Tuesday, September 14th, from 4:00 p.m. to 7:00 p.m. and Thursday, September 16th, from 3:30 p.m. to 7:00 p.m., to have their child's school picture taken. Please make sure that your child is in CHA Dress Uniform for the photo. If you prefer an individual appointment, please get in touch with Vakker directly at 425-455-2827 to arrange. Vakker will provide you with order information upon arrival.
Car signs – Please display the car sign we sent you at pick-up and drop-off. It will help us readily identify, welcome, and support you. An extra sign is being sent home with every student next week.
Campus Updates - You can view previous Campus Updates here. The next Campus Updates will be sent out Friday, September 17th.  
Thank you, 
Holly Senaga, Head of School 
© 2021 Chestnut Hill Academy | 13633 SE 26th Street | Bellevue | WA 98005